5 shows I've watched (and enjoyed) recently
Dating Around
I loved season one of Netflix's first original dating series that premiered back in February 2019, and so when season two of Dating Around appeared on my home page a couple of weeks ago, I was thrilled.
The basic premise is that one person goes on five first dates, but is only allowed five second date. The show is split into before, during and after dinner, and through a compilation of the five dates, we get to know the dater intimately and get a feel for the datees. At the end, I love trying to guess who they'll pick for their second date.
Dating Around is bursting with eccentrics, cool girls and artists dating men and women indiscriminately with an edgy city backdrop: in Season 1, New York City; in Season 2, New Orleans. The visuals are vibrant with soundtracks to bop along to.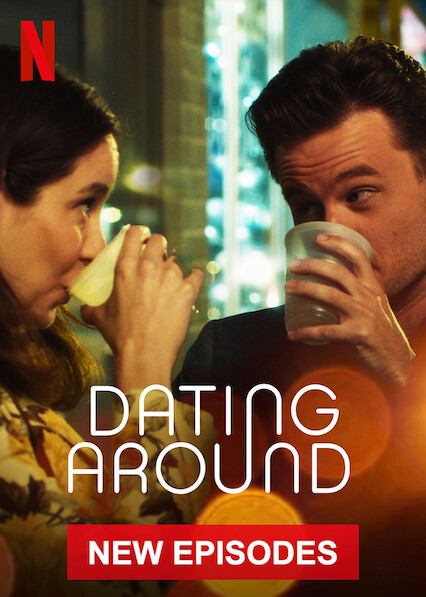 Chewing Gum
I'm still yet to watch Michaela Coel's I May Destroy You, which has been getting rave reviews since it debuted earlier this year. However, I did recently watch Chewing Gum, Coel's first series that she wrote and starred in, that aired in the UK from 2015 to 2017.
Cringe-comedy is the perfect way to describe this series. That, and super hyperbolised. Tracy – the series protagonist played by Coel – is bouncy and overdone, so it's the kind of show where moments of relatability are crushed by the dramatic comedy. But it's still hilarious.
Coel is an incredible writer. The short episodes keep Chewing Gum quick, exciting and addictive. With an incredible cast that keeps the show moving and really rooted in British comedy, it's the perfect show if you're looking for something funny, outrageous, and low-commitment.
Down to Earth with Zac Efron
I've been in love with Zac Efron, on and off, since 2006 when High School Musical was released. Whether or not I would watch Down to Earth was never really in question.
Down to Earth follows Efron and his friend Darin Olien as they travel across the world – the UK, France, Puerto Rico, Iceland, Costa Rica, Peru and Italy – exploring their sustainability and wellness techniques. There's a particularly interesting episode filmed in Sardinia, Italy that researches centenarians the secret to long-life.
You have to take shows like these with a pinch of salt – of course it's not going to be groundbreaking, and it functions to offer an entry-level kind of activism and healthy living. But public figures like Zac Efron are really important in introducing a wider range of individuals to the very real issues that threaten the globe and our generation. I really, really enjoyed it.
The Sinner (season three)
The Sinner is an anthology crime series aired on USA Network and available on Netflix in the UK. Bill Pullman stars as a Harry Ambrose, a washed-up New York State police detective in all three seasons, and is the only consistent character in the series. He gets a little too invested in his cases, and is especially interested in uncovering the complicated, psychological motives of the criminals in his cases.
Each season has received critical acclaim, with complicated and smart plots. For me, season three wasn't as clever or unpredictable as the first two seasons. Nonetheless, it was action-packed, full of twists and turns with a cast brimming with talent.
If you love thrillers, crime stories and psychological dramas, I can highly recommend The Sinner.
Lenox Hill
Lenox Hill is a Netflix original documentary series giving insight into the working lives of four medical professionals at Lenox Hill Hospital in Manhattan.
With two of the four doctors (David Langer and John Boockvar) having prominent roles in the neurosurgery department, there's some really interesting insight into research, experimental surgery and brain science.
On the other end of the spectrum, we have two incredible women: Mirtha Macri, who is an emergency physician, overseeing the emergency room; Amanda Little-Richardson, who is an OB/GYN (obstetrics and gynecology) resident in her final year and who helps women give birth. Both women are pregnant during the series, and are incredible role models smashing the gender imbalances in their industries.
A special coronavirus episode recently debuted on Netflix, which is such an interesting insight into how coronavirus was experienced inside hospitals and in such a busy city as New York.